Description
Garmin Forerunner 735XT Advanced GPS multisport watch with Garmin Elevate™ wrist heart rate technology
The 735XT is for running and triathlon athletes like you who demand more from your equipment.
The Garmin Forerunner 735XT measures heart rate at your wrist for bike or running workouts.
The watch provides advanced multisport features to record ground contact time balance, stride length, vertical ratio and much more.
You can benefit from the inbuilt VO2 max estimate, lactate threshold, race predictor and recovery advisor functions.
Garmin Forerunner 735XT connected features: smart notifications, automatic uploads to Garmin Connect™ website, live tracking and more.
You can customise the Garmin Forerunner 735XT with free watch faces, apps and more from Connect IQ™ Database
The Garmin Forerunner 735XT Does It All
See how the Garmin Forerunner 735XT helps you become a better athlete on the road, the trails and in the water. The awesome Forerunner 735XT GPS multisport watch is for runners and triathletes just like you who expect more. Get in-depth data as you train and compete.
The smaller form and comfortable wrist band, means the Forerunner 735XT is the ideal device for both working out and normal daily wearing. It even doubles as an activity tracker to monitor your movements, count calories and monitor your sleep patterns.
The Garmin Forerunner 735XT Perfect For Running & Triathlon
The Forerunner 735XT has the ability to allow you create various activity profiles. Set a profile for running indoors or outdoors. Create another for cycling, another for swimming in the pool or open water. Set a profile cross-country skiing, water sports, trail running and strength training.
For triathlon and other multisport events, the Forerunner 735XT auto multisport feature lets you switch sports with the press of a button. Create your own custom workouts and download for free from Garmin Connect. The 735XT is the compatible fitness monitoring device for athletes who demand more from their equipment.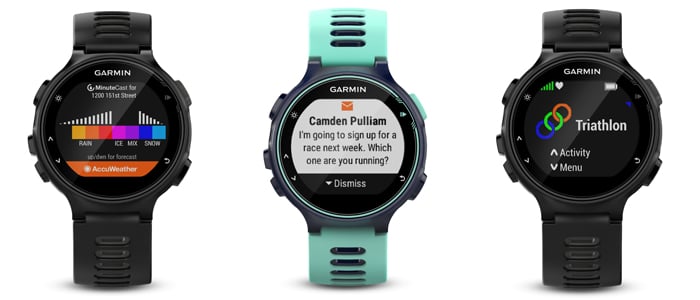 Heart Rate Monitors Tracks Heart Rate From Your Wrist
The Forerunner® 735XT is the first multisport watch built with Garmin Elevate™ heart rate technology to measure your heart rate from your wrist. No more fumbling with loosening chest straps during your events.
There's no need to wear a chest strap to see your vital stats either. See your HR zone and BPM, all in real-time and displayed on a colourful gauge.
Better Data With The Garmin Forerunner 735XT HRM Chest Strap
Wrist-based heart rate monitoring can be a suitable solution for high intensity events, but when it comes to training and recovery you may find the Forerunner 735XT chest heart rate monitor is a better solution.
Check out the advanced metrics you can gain with the addition of the heart rate monitor chest strap
Running dynamics – such as ground contact time balance, stride length, vertical ratio and more
VO2 max estimate, lactate threshold, race predictor and recovery advisor
Underwater heart rate for swimming
Get Strava Premium Integration Free
When you purchase the Forerunner 735XT you get a 60-day free trial to Strava Premium, so you can see your suffer score and use it to develop and improve your results. With the integration of the Strava Live Suffer Score, you can gain peer credibility for your efforts. Strava Suffer Score analyses your heart rate during a workout and ranks your total activity effort.
Use Garmin Connect To Customise Your Device
Get smart notifications, uploads data automatically to Garmin Connect and avail of live tracking. Store your smartphone away while you train and get all your notifications to your wrist. Respond or keep moving, it's up to you. You can even customise your Forerunner 735XT with free watch faces, applications and data fields from Connect IQ.
Connect With Training Partners On Garmin Connect
Join the free Garmin Connect online community where you can save, plan and share activities with training partners and friends. Beat previous training days, compete with your friends and view everyone's results and victories all in one spot. Get digital insights tailored to your stats and habits, like cues to move and healthy tips. Available on your desktop or compatible mobile device.
A Few More Extras
The Garmin Forerunner 735XT keeps going all day long, just like you do. The device becomes your partner throughout daily activity, tracking and monitoring your steps, calories and sleep patterns. It's also compatible with our line of Varia™ cycling awareness devices, including rear-view radar, smart bike lights and Varia Vision™ in-sight display.
What's In The Box
Watch Only
Forerunner 735XT GPS watch
Charging/data clip
735XT Documentation
Run Bundle
Forerunner 735XT GPS watch
HRM-Run™ monitor
Charging/data clip
735XT Documentation
Tri-Bundle
Forerunner 735XT GPS watch
HRM-Tri™ monitor
HRM-Swim™ monitor
Charging/data clip
735XTDocumentation