Description
Garmin Forerunner 620 Advanced GPS Running Watch with Recovery Advisor
The Garmin Forerunner 620 sports a high-resolution touchscreen colour display that tracks distance, pace and heart rate¹
The Forerunner 620 calculates your recovery time and VO₂ max estimate when used with heart rate
An HRM-Run monitor¹ adds data for cadence, ground contact time and vertical oscillation
Connected features include automatic uploads to Garmin Connect™, live tracking, and social media sharing
Download free training plans from Garmin Connect site direct to your device
The Garmin Forerunner 620 GPS Running Watch is the next best thing to having your own personal running coach right when you need it. The device offers you advanced features like recovery advisor, race predictor and VO₂ max estimate to help you train smarter and achieve your running goals.
When you use the Garmin Forerunner 620 with the HRM-Run monitor¹,  you get feedback on your running form. Get your cadence, ground contact time and vertical oscillation right from your device. For indoor training, the Forerunner 620's built-in accelerometer tracks distance, so you don't need a separate foot pod.
Reach Your Potential with The Forerunner 620 GPS Running Watch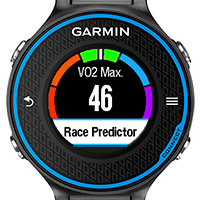 Regardless of how long you've been running, every runner seeks to improve their performance and reach ever higher potential. The Garmin Forerunner 620 helps you get there by estimating your VO₂ max, a strong indicator of athletic capability. Before the Forerunner 620, the only way to know your VO₂ max was to pay for a lab test.
Now however when you use your Forerunner 620 with a heart rate monitor chest strap, the device gathers data like your running speed, beats per minute and heart rate variability to estimate your VO₂ max. The number shown indicates the max volume of oxygen you can consume per minute, per kilogram of body weight at your max performance.
the colour gauge shows how your VO₂ max data compares to other runners of your gender and age range. Based on your VO₂ max estimate, the Garmin Forerunner 620 can predict your race times for several distances. This can give you a time target for your next race, assuming you've completed proper training.
Know When To Train & When To Rest
Forerunner® 620 takes out the guesswork when planning recovery time between hard workouts with monitoring of your physiology. Based on your heart rate data, it factors this against your last workout and then shows how much time before you are fully recovered.
When wearing HRM-Run, the 620 provides a recovery check, which is a real-time indication of your state of recovery within the first several minutes of your run. When you've completed a run, the recovery time shows how long before you should attempt another hard workout. Colour coding on the gauge makes it easy to interpret — green means you're good to go. When you see red and a recovery time of more than 3 days, you might consider taking a rest day or just doing a light recovery run.

Measure Your Running Form With The Forerunner 620
The 620 is the first GPS running watch that provides feedback on your running form by reporting multiple metrics. When used with the HRM-Run monitor¹, the 620 reports your cadence, vertical oscillation and ground contact time. Over time, the built-in running dynamics help you develop positive running economy.
The HRM-Run accelerometer measures your torso movement as you run in order to compute these metrics. The device measures cadence, the total number of left and right foot steps you take per minute combined. Vertical oscillation is the degree of "bounce" in your running motion, measured in centimeters.
"Ground Contact Time", another important metric, is the amount of time your foot spends in contact with the ground. A colour gauge makes it easy to see how your running dynamics compare to other runners.
Connect With Running Partners on Garmin Connect
With wireless upload capabilities, the Forerunner 620 can send your run data direct to the Garmin Connect online community. Connect to your smartphone with the Garmin Connect™ Mobile and transfer your data easily. Set up WiFi hotspots, at home or work and the Forerunner 620 will auto sync with Garmin Connect when in range.
Enjoy additional connected features include live tracking, which allows your friends and fans to follow you and see your stats in real-time. You must have your phone paired with the 620 throughout your run to use the LiveTrack feature.
You can also share your event and training results with friends on social media by posting updates through the Garmin Connect Mobile app. And, for real-time coaching as you run, the 620 is compatible with free training plans at Garmin Connect.
Connect your device regularly to Garmin Connect and benefit from a faster GPS fix due to satellite data that will be sent to your device automatically.
What's In The Box
Forerunner® 620
Garmin Forerunner 620 GPS watch
Charging data cradle
Manuals
Forerunner® 620 Bundle
Garmin Forerunner 620 GPS watch
HRM-Run monitor
Charging data cradle
Manuals